COVID-19
Information and Updates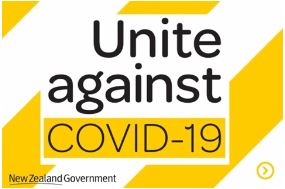 Wellbeing information updated including new tip sheets for families, caregivers and whānau
The Ministry of Education have slightly updated the wellbeing information on our website to better reflect how the COVID-19 response has changed over the last weeks. Included in there are three new tip sheets for parents, caregivers and teachers:
If you know someone who might be struggling in your school or early learning service community, there are a large range of supports in place that may be able to assist including:
Information in languages other than English:
If you believe a child is in immediate danger, call the Police on 111.
If you are worried about a child and want to make a referral or report of concern, call Oranga Tamariki using 0508 EDASSIST (0508 332 774) or Email edassist@ot.govt.nz
For the source of truth and to find out what help is available and get the latest updates, please go to the following website:
https://covid19.govt.nz/
This website has everything you need to know about COVID-19 in one place. Learn the simple steps you can take to unite against the virus and slow its spread.
Pacific translations are available in:
Cook Islands Maori

Fijian

Niuean

Samoan

Tokelauan

Tongan

Tuvaluan



St Vincents de Paul Foodbank
The shop located at 18 Mungavin Avenue is now closed until further notice.
Urgent only requests for food parcels can be directed via "send message" on their facebook page https://www.facebook.com/StVincentdePaulPorirua/
Or by leaving a message:
(04)2375968 for Tawa through to Otaki
(06)3683034 for Levin.
Our normal delivery days will apply:
Tuesday-Friday for Porirua East-Pukerua Bay
Friday for Tawa through to Titahi Bay.
As the shop is our main source of income any financial donations to support the 5 foodbanks that we operate between Tawa and Levin would be most gratefully received. Donations over $5 are tax deductible and can be made to our Area Council account. If you require a receipt please email your details through to svdpporirua@gmail.com with Attention Treasurer in subject line.
Donations can also be made through our National Office website www.svdp.org.nz.
KMAC St Vincent de Paul Society 030547 0885236 00
Please do NOT leave donations of any kind outside the shop during this time.
Salvation Army Porirua – Foodbank
Foodbank assistance please call (04) 235 6266
St Annes Foodbank - operated through CAB
Due to the Covid-19 virus our walk-in service has closed
For a food parcel, phone 0800 367 222 or email porirua@cab.org.nz and include your phone number.
The St Anne's Pantry Food Bank is accessed only through Citizens Advice Bureau Porirua. The pantry delivers parcels of food to people in need who are not able to access a food grant from Work & Income, or in emergencies. Each parcel is an emergency parcel.
ClientS must be home between 2.30pm and 5.30pm to receive the parcel.
Wesley Community Action – Foodbank and other Support
The community Pantry (the food bank) is operating.
Packing and delivering is done on Tuesdays and Thursdays.
If you require a food parcel, please phone (04) 237 7923
They normally run a fruit and vege co-op which they can't run during level 4 at this stage, however they have partnered with 'Food Together' who do fresh fruit and veggies delivered to your door from local growers. You can order online here:
https://www.foodtogether.co.nz/
They also have a team who provide support for people in financial stress (our Good Cents team) they are operating on phone and social media only at this stage but would be happy to talk with anyone who is feeling stressed about money and needs some support to work out plans about what to do with their finances.
Nikolien Van Wijk nvanwijk@wesleyca.org.nz
Ashleigh Crawshaw acrawshaw@wesleyca.org.nz
Or you can get them on facebook and message them at Good Cents Wesley
Pacific Families – COVID 19 Package of Support
Pacific families who need to access a Covid 19 Package of Support, please call one of your local Whānau Ora Covid 19 Support Partners (please see attached for contact details)
This assistance is available for all Pacific families the providers will assess your needs and help you figure out your next steps.
Subsidised broadband (internet)
Not all households have access to the internet, so you might want to share this option with those who are not connected to help families through the next few weeks.
https://www.skinny.co.nz/jump/home.html (SKINNY is a division of Spark)
Skinny Jump
Subsidised broadband for Kiwi homes.
Skinny Jump is flexible prepaid broadband: Only $5 for 30GB of data, no contracts or credit checks, and the modem comes free of charge. Just top up as you go.
The flexible prepaid top-up system means you can get a 30GB plan for only $5; you can then renew the plan five times every month. You can get up to a maximum of 150GB every month (and it will only cost you $25).
Skinny Jump is a not-for-profit service and we don't use your information to promote or sell other products.
If one or more of the following sounds like you, then you would probably be eligible:
• Families with children
• Job seekers
• Seniors
• People with disabilities
• Refugees and migrant communities
• Those in social housing
If it is ascertained that they qualify the next steps will be to complete this form https://docs.google.com/forms/d/e/1FAIpQLScJvaTgGBBeY6dLm7yQqaO243MsOTEDLu5IA5Uqp4z6wCN1Xg/viewform (Providers or organisations can do this on behalf of whanau).
The Community Awareness and Preparedness Grant fund
This fund is for community-based groups that are or will be providing essential community-led solutions to support local resilience and community wellbeing during the period of Covid-19 - Alert Level 4.
Grants allocated from the fund will be one-off with priority being given to requests that support Maori, Pacific, older people, people with disabilities, people with current significant health considerations, migrant communities and people who are isolated in rural areas.
Apply HERE: https://bit.ly/33UBLKb
Caring for our Pasifika elderly
I know we are extremely concerned for our Pasifika elderly. Lets check in with them via phone or via facebook if possible and if they need anything, remember to do it from a safe distance
The lack of modern technology may be an obstacle for our elderly living alone during the emergency self-isolation period to combat Covid-19.
FULL ARTICLE :
http://pacifichealth.org.nz/social-distancing-isnt-social-isolation/
Work and Income Financial Support
From Monday 30 March:
deferring the need to provide subsequent medical certificates for clients already getting Jobseeker Support, Sole Parent Support, Supported Living Payment and Child Disability Allowance.

deferring any Disability Allowance reviews

delaying Annual Reviews (including all annual reviews of income, confirming your circumstances (CYC) and annual circumstances letters (ACL), social housing reviews, and life certificates)

clearing any Special Benefit expiries or reviews

deferring any new obligations failures

clearing any 52-week reapplications for clients getting Jobseeker Support or Sole Parent Support

extending the period that Temporary Additional Support is granted for.





We're working through transitional arrangements for any clients whose payments are affected by any of these changes/reviews.





We're also working on other ways to make things easier for our clients and we'll update you as soon as we can.





If you have been affected by COVID-19, they may be able to provide financial support. You may be self-isolating at home, or your work may be affected: For more information please go to:



https://www.workandincome.govt.nz/eligibility/emergencies/2020/coronavirus.html

Wage Subsidy
The Government has put together a COVID-19 Wage Subsidy for employers in all regions.
It's to support your business if you are impacted by COVID and face laying off staff or reducing their hours because of COVID-19.
For more information about the Wage Subsidy go to:
https://www.workandincome.govt.nz/products/a-z-benefits/covid-19-support.html#null